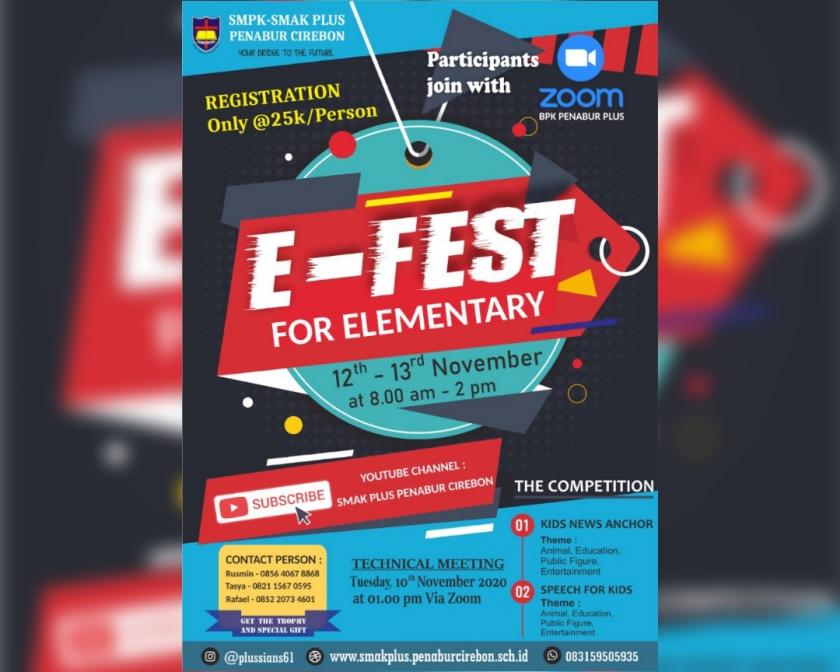 SMPK-SMAK PLUS PENABUR Cirebon will hold an English Language Competition titled E-Fest 2020. This E-Fest Competition is for elementary school students. The competition will be held on Thursday-Friday, Nov 12th to Nov 13th 2020, online through the ZOOM Application.
This time, the English Festival 2020 features two categories: reading news (Kid News Anchor) & speeches (Speech for Kids). This activity was held as a media to train and develop student's English language skills. SMPK - SMAK Plus realize that English is absolutely necessary in an era that is increasingly open to global challenges.
This was conveyed by Vice Principal for Curriculum, Antonius Adinugroho.
"This kind of activity is routinely held once a year. We are trying to stay present in the midst of a pandemic because there is never a word to "STOP" on a global challenge. We all have an obligation to continue to train and prepare students to be able to compete in the future ", he said.
For technical provisions & further information, please see the link below. It is hoped that with this event, students can participate as competition participants.
For Script, please see the link below :
For registration please send an email to smakplus@penaburcirebon.sch.id
Subject : Registration & Payment Confirmation of E-FEST 2020
BODY MAIL
Registration
1. Participant's Name - Type of competition :
(1)...
(2)...
2. School Origin :
3. School Grade :
4. Phone number :
5. E-mail (for e-certificate purpose) :
Payment confirmation
Bank Name :
Bank Account Name :
*Please attach the transaction proof